News and Updates
7/29/20
I finally got all 9 of Cappuccino's kittens photographed and online!  They are the most cuddly bunch ever.  They just melt into my hands!   
Clementine is due in a week and a half.  Shadow and Aurora are also pregnant and due on the 20th and 21st of August. 
Willow is still holding onto her baby.  That's right, she has one kitten!  Her progesterone dropped down to 9 while we were on vacation for a week in Oregon, but our amazing house sitter, Elisa,  got her started with progesterone supplements right away and her levels went back up and are now at 19.  She has less than 2 weeks to go in this pregnancy and we are cautiously optimistic that she will give us 1 healthy, strong kitten.  The doctor says the kitten has a wonderfully strong heartbeat!  We are so thankful and happy for this 1 kitten because it means we can try this again and produce more kittens from this incredibly beautiful girl! 
Calypso and Jenny have been bred, but we don't know if they are pregnant or not yet.
7/8/20
Faith had 4 kittens on June 18.  She had 4 beautiful babies and they are already waddling around a bit.  She has 2 blue, 1 brown, and 1 silver. 
Cappuccino had 9 babies on June 23. She had 2 black, 5 smokes, and 2 silvers.  All are growing well and she is eating a ton to provide them all with plenty of milk! 
Willow had an ultrasound on Monday and she is pregnant.  Her progesterone level was over 21, so all is well so far.  She goes in for another progesterone test next Monday and every Monday thereafter.   Clementine is definitely pregnant and due near the middle of August.  Shadow and Aurora have also been bred and if they are pregnant, will be due near the end of August.  We got a new 3 year old white Maine Coon girl with heterochromia.  One eye is blue and the other is yellow.  She is very nervous, but getting used to the bathroom and is already purring and kneading.  We hope to have kittens from her in less than 6 months. 

Our son is picking up an 8 week old silver mackerel female from a friend who is a breeder in Norco.  Her name from the breeder is Gypsy.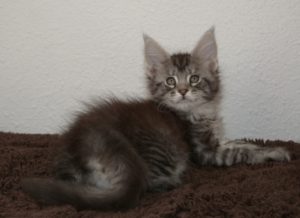 We are waiting on Calypso, Misty, Jenny and Violet to be bred in the next month or so.
6/17/20
Simba has found a new home with a wonderful family living in Auburn. 
Willow has been bred and we are trying our best to bring some kittens out of this pregnancy.  We started, at the suggestion of other breeders and our veterinarian, by giving her and Marshall antibiotics.  On day 21, we will be bringing her to the vet for an ultrasound and a progesterone level check.  Providing all is well, we will be checking her progesterone levels constantly throughout her pregnancy till we have either a live birth or a miscarriage.  If she miscarries again, she will be spayed and rehomed.  Of course, we are hoping for kittens, but are trying not to get our hopes up too high.  It is hard not to, though, because we would dearly love a litter from beautiful Willow. 
Faith is ready to deliver any day now.  She keeps herself mainly in our bathroom where she loves curling up in the tub or between the toilet and wall!  We can't wait to see her babies. 
Cappuccino is also looking big and is enjoying having the run of the house.  She really comes alive whenever we go to the kitchen and open the fridge!  She LOVES her treats!  You would think she was starving, the way she almost plasters herself to the floor to get every morsel from the dish!
6/8/20
Simba is available and you can find more information about him on our available adult cat page. 
Also, Clementine was bred this weekend, so we hope for kittens from her in 9 weeks!
6/5/20
We have updated the waiting list.  If we have made a mistake, please let us know! 
Faith is due with her first litter in a little over a week and Cappuccino is due a week or so later.  We are waiting for Clementine, Shadow, Willow and Calypso to go into heat Aurora  appears to not have gotten pregnant with her first breeding, so we will wait for her to go into heat again as well.
5/24/20
A big thank you to all who called yesterday.  We had such a huge response, that we are closing our waiting list already.  We will be adding all the new names to the waiting list in the next week.  Congratulations to all of you new folks on the list!  Look for the list to reopen sometime late in fall.
5/18/20
Zephyr had 4 kittens and they are beautiful!  Jenny's kittens are gearing up to go to their new homes this week.  They are very busy and playful!  
5/8/20
Check out Jenny's current litter page for new, updated pictures of her kittens! 
Also, Zephyr is still holding onto her kittens.  She was due yesterday, but still….nothing!  And Cappuccino?  She ended up not getting pregnant, so we are trying again! 
Remember, the waiting list opens at 10:00 a.m. on May 23.  Please call and leave a message! 
4/13/20
****WAITING LIST UPDATE******
We will be opening up our waiting list for both males and females on Saturday, May 23 at 10:00 sharp.   I do want you to be aware that the lists for polydactyl and black smoke kittens will be very limited or closed entirely depending upon how many we get in the near future.
Please call only…. If you do not get a hold of me, please leave a message and I will return calls in the order in which they are received.  At that point, I will send you a short form that you can fill out and send back along with a $400 non refundable deposit to secure your place in line. 
In other kitten news, we are expecting a litter with Zephyr and Cappuccino in May and Aurora and Faith in June.
3/17/20
Willow has had her second miscarriage.  We are working closely with our veterinarian and will be breeding her in a couple of months and monitoring her closely.  It is possible that we may never see a litter from Willow but we are giving it our best shot.  In the meantime, we are actively seeking other silver girls to add to our cattery.  We have the possibility of silver kittens coming in the near future with Zephyr, Cappuccino, Aurora, Faith and Shadow.   
Jenny is due any day and Calypso's kittens are turning 4 weeks old and cute as can be!
3/4/20
Our waiting list is closed till May or June.  Keep watching for new updates.  
2/24/20
Our waiting list will close down entirely on February 29 for any new kittens.  It will open up again in May or June  and we will post the opening day 60 days before it actually occurs.  
2/19/20
John and Patty Cruikshank brought little Juniper down from Oregon.  She is a very confident, brave brown classic girl.  We also got our new girl, Violet, from Russia and she is an amazingly friendly,  loving 4 x 4 polydactyl girl.  She acted like she was one of the family the moment she set foot in the house!  She is in quarantine right now waiting for the day that she is deemed clear of any infectious bugs.  We always do this with our new kitties to allow us time to send off PCR tests, deworm them and make sure they don't introduce anything new to our existing cats that would be detrimental to their health. 
Calypso gave birth to 5 beautiful kittens and Jenny is showing her pregnant tummy.  Willow is not showing yet, but it is still much too recent to tell.
1/29/2020
We are closing our waiting list for polydactyl or black smokes.  We are at our current maximum of 6 kittens on each list.
We got our new black smoke girl, Misty, from Russia on Sunday and she is still scared from her long voyage.  She will be warming up quickly though and is a gorgeous black color with striking white/silver undertones.
12/31/19
Happy New Year's Eve!  In the next few months, we will be going through a quiet time with kittens after Jenny, Cappuccino and Clementine's kittens go to their new homes.  During that time, we will be updating you with pictures of our adult cats and new future breeding cats.  We have 3 young kittens from our own stock as well as one from Russia and 1 from Oregon.  Also, at the end of January, we are receiving a new black smoke female from Russia and a brown female from European decent by way of Oregon.  2020 looks like it will be another fun and exciting year for our kittens and their families.
12/9/19
Our waiting list is officially closed for male kittens.  We do have a couple of spots available for females.  
11/17/19
Thank you to all the people who called on Saturday to get on the waiting list for a kitten.  We are happy to welcome everyone into our family of Maine Coon lovers.  We will be leaving the waiting list open for a short time, so please call if you didn't get a chance on Saturday.
Some of Calypso's kittens have already gone home to be with their new families and the rest of her litter will be going this week, except for Fiesta who is staying with us.  I will be getting new photos of Jenny's 4, Zephyr's 2 and Mango's 10 and will
hopefully
have them online Wednesday or Thursday.  
Cappuccino is due any day and Clementine is due at the end of the month.   Then, we will have a break from kitten deliveries for a few months since we have no other pregnant mommies and no one ready to breed till January.
11/1/19
Zephyr has had her kittens; 2 brown boys.  Jenny had 4 boys today.  2 are blue and 2 are brown.  Sadly, Willow miscarried her litter.  She is on antibiotics and we will breed her again in a few months and monitor her progesterone level throughout the pregnancy.
Calypso's kittens are almost ready to go to their new homes.  Clementine and Cappuccino are due in November.
Remember, the Waiting List opens up on Saturday, November 16 at 10.  Leave a message.
10/16/19
****WAITING LIST UPDATE******
We will be opening up our waiting list for both males and females on Saturday, November 16 at 10:00 sharp.  
Please call only…. If you do not get a hold of me, please leave a message and I will return calls in the order in which they are received.  At that point, I will send you a short form that you can fill out and send back along with a $400 non refundable deposit to secure your place in line.
10/5/19
We have lots of kitten news!
Calypso kittens and Belle's one boy were split up evenly between both moms.  They have been doing amazing jobs and those babies are about a pound and a half!
Mango gave us 10 kittens last Saturday, and we are happy to report that all 10 are still growing and doing well!  We've been doing round the clock supplementing, God has blessed, and they have all been thriving!  We gave Calypso all of her kittens again plus Belle's boy so that we could split Mango's 10 evenly between Belle and Mango.  Now, Each mom has 5 kittens except Calypso who has 6

.
Sadly, our silver boy, Phoenix, did not get to come to us from Switzerland because he had a neurological reaction to his second Leukemia shot and had to be euthanized in Switzerland.  Beware:  Leukemia shots have a bad reputation and have been know to cause fatal reactions for adults and kittens alike.  If your cat is entirely inside, we recommend NEVER giving the Leukemia shot.  We are going to wait for another litter from the same breeder in Switzerland and she has agreed not to give the leukemia shot.
We have Zephyr and Jenny due by the end of October, and Clementine, Cappuccino, and Willow due at the end of November.  Lots of kittens coming!
9/7/19
We are going to be placing Lucy and Chamomile as spayed adults into new homes.   If you are interested in either cat, please give us a call or text.
We did an x-ray on Belle and she has a litter of 2 kittens.  This is becoming typical of Belle, but not of our other females.  Due to this fact, we are considering retiring her in the next year.  She is a gorgeous, loving cat and we hate to lose her as a breeder, but she'll be happy as a spoiled pet! 
Belle is due in about a week. 
Calypso just had a litter of beautiful  kittens.  She had reds, browns and a tortie.  All but one are polydactyl and many have white feet.  Pictures will be posted soon.
Mango, our 4 x 4 polydactyl,  is starting to show a pregnant tummy.  She is due early October.  We are hoping for a nice large litter.
Our silver polydactyl boy from Switzerland, Phoenix, is due to arrive at the Sacramento airport at the end of September.  He is a beautiful mackerel and we are looking forward to seeing him.
Zephyr and Jennie have both been bred and should deliver near the end of October.
We will be breeding Willow to Caspian, Cappuccino to Marshall and Clementine to Caspian in the next month or so.
We still have a few spaces on our waiting list for females and hope to open the waiting list for males as well in December.
8/12/19
We are open to new reservations
only for female kittens due to the fact that our cats gave us so many female kittens this spring. 
We went up to Oregon last week to pick up a new little girl from some friends and fellow breeders, John and Patty Cruikshank.  She is a sweet, easy going little calico lady who is close to 4 months old and will give us kittens next summer, hopefully.   We are also getting a little silver polydactyl male from Switzerland in October.  
Calypso and Marshall are due at the beginning of September.
 Belle and Caspian are due mid September with what looks like a small litter. 
Mango and Caspian are due early October. 
7/27/19
All of Anastasia's kittens went to their new homes today except for Miss Jasmine who will be staying with us.  She is a beautiful, dark black smoke and one of the biggest kittens in her litter. 
Chamomile did not get pregnant as hoped and had a false pregnancy, so we won't be having any kittens from her for several more months.
However, Belle and Calypso are expecting and Mango has been bred to Caspian.    We are looking forward to their kittens and hope to get a black smoke poly.  Maybe?
7/8/19
All of Anastasia's kittens have been picked for their new homes.  
Chamomile and Caspian were bred and will hopefully produce a litter in the beginning of September.  Calypso and Marshall, and Belle and Caspian have been bred and are due mid September.  We are expecting many colors from these three litters!
6/18/19
The waiting list has been updated and we will be calling people in the next couple of weeks for Anastasia and Clementine's kittens.
6/12/19
Thank you to all of you who became a part of Saturday's reservation list for Gold Rush Maine Coons!   We filled over 15 spots in about 6 hours worth of phone conversations! There are still a few spots remaining, but I am expecting the list to close in the next week or two.   For those of you that for various reasons

could

not get on this list, the next reservation time should be at the end of 2019 or early 2020.  The timing depends on how many kittens we have this fall.   Those of you on the new list will see your  first name  appear,  once everything shakes out and we know exactly where the positioning should be.  Eight to nine of my current kittens will be chosen in the next few weeks and will go to their new homes in early July.  You will see the list move at that time.   Keep an eye on our website and Facebook as things develop!
6/8/19
Waiting list opens today at 10:00.  Please leave a message.  I know I'll be on the phone most of the day to take care of everyone.  Your place will be held by the time the message appears on my phone.  It's an exciting day!  530 391-

01

89.  Oops!  I had transposed two numbers!
5/18/19
WAITING LIST ANNOUNCEMENT 
********
Beginning at 10:00 am on Saturday, June 8, I will be taking reservations for kittens from late summer into winter.  I will take approximately 20 new people.
Please call only…. If you do not get a hold of me, please leave a message and I will return calls in the order in which they are received.  At that point, I will send you a short form that you can fill out and send back along with a $400 non refundable deposit to secure your place in line.
Clementine, Anastasia and Chamomile are all pregnant.
4/28/19
All of our kittens are growing up and many will be ready to send to their homes very soon.  For those of you on the wait list, especially in the top half,  I will be contacting you this coming week to begin the choice process.  Zephyr, Mango, Belle and Jenny's litter pictures are current and Lucy's will be as soon as we are ready to take new pictures.  Lucy had a cold virus she caught and passed it on to some of her kittens so they are on hold for awhile until they are all fully over the cold and ready to go to their new homes.  They are all eating well however and doing fine.  Clementine is confirmed pregnant and is due at the very end of May.
4/2/19
Things are really beginning to happen and we have a house full of beautiful kittens.  Calypso's kittens are getting ready to go home soon.  They are running around like crazy and are totally litter trained.    Lucy's 6 kittens are starting to walk around and explore our laundry room.  They are very friendly and love people and neck scratches!  Zephyr had a beautiful litter of 5 boys on Monday, March 25th and Mango also gave birth to 6 very nice kittens on Friday, March 29th.  That gives us a total of 21 kittens right now.  Belle and Jenny are due in April and Anastasia was just recently bred to Marshall.  Needless to say, we are very busy and things are really starting to move along,  which happens every spring!  We will be updating pics towards the end of next week on all our kittens so you can have a fresh look!  A big thanks to all on the waiting list for your patience!
Just a reminder to those of you who have contacted me regarding getting on the waiting list.  I will be opening it again early June and will make an announcement under "news and updates" on our site three week prior to the list opening so you have time to prepare.  Thank you also for your patience. 
3/17/19 
Calypso's kittens are getting bigger and follow us around meowing for attention.  They are getting litter box trained and are such cute little fuzzballs!
Lucy had 6 amazing kittens on the 9th and I will be contacting people on my list in about a month.  She had 4 girls and 2 boys in a variety of colors.
Zephyr has been brought into the house in preparation of her delivering her kittens later in the week.  She is, as usual, as big as a house!  Of course, she starts off a little plumper than other girls in our cat cottage!  We think she'll have at least 4 kittens.
3/01/19   (A SPECIAL NOTE FOR THOSE OF YOU DESIRING TO BE ON THE WAITING LIST. . . . )
Thank you very much for your overwhelming interest.  Our waiting list is currently closed, but will reopen again at the beginning of June.  I will make an announcement on our website under the "news and updates" section three weeks prior to opening the list.  Please begin watching the website starting in May.  In the meantime, you can be watching under "current litters" to see what is currently happening at Gold Rush Maine Coons.  Sorry for the delay.  It does take a lot of patience to get a Maine Coons kitten but once you have one, you will understand why it was worth the wait!! I look forward to hearing from each of you in early June.
2/18/19
Spring has sprung and things are beginning to happen!  Calypso has four beautiful kittens born February 7th.  She has a red poly male, a brown w/ white poly male, a regular red male and a brown and white female.  Their eyes are now open so you should be seeing pictures early this week under current litters/Calypso.  Also, the following queens are bred:  Lucy, Belle, Mango, Zephyr and Jenny.  We are hoping to breed Anastasia soon.  Early April will be very busy with new kittens and the waiting list should be moving along!
We named our two new girls, Clementine and Chamomile.  They should both be ready to breed this spring.  Clementine is a red classic with white and Chamomile is a silver patch with white.  They are both  beautiful girls and quite talkative and friendly!   Their personalities are very sweet and they have quickly become part of our Maine Coon family! 
1/7/19
Happy New Year!  We hope 2019 is a blessing to all!  We have 2 pregnant queens (hopefully).  Calypso should bring us some polydactyl babies in February and Lucy should give us a litter of colorful kittens in March.  We are also getting 2 new girls from Russia today who will be a year old in February and March and bring us kittens this spring as well.  Tom went to San Francisco to pick them up today and we will post some pictures as soon as we can.  One girl is a beautiful dark red classic with a white bib and feet.  The other is a blue classic with white bib and feet too.
11/27/18
Gracie is getting bigger and is Due after Christmas.  We are waiting till Mango goes into heat to breed her, but she is taking her sweet time!
10/16/18
We have been so busy that we haven't updated since the birth of our last three litters!  On October 2, Anastasia had a beautiful litter of 3 boys and 2 girls.  Four days later, Zephyr had a litter of 2 boys and 2 girls and on October 8, Jenny had a litter of 2 boys and 2 girls!  We are so blessed!  See their individual pages for photos and descriptions of the kittens. 
10/1/18
We have a new queen in our bedroom with a litter of 7 beautiful kittens.  Some are calico, some are red and white and some are black and white.  There are also a couple of polydactyls.  Mom's name is Lucy and you can see a photo of the babies under "Current litters:  Lucy and Drake".  She came from Russia and the father is still in Russia.  These kittens will be available first to those who have been on my waiting list more for than 6 months.  We will take new photos in a couple of days.  
Zephyr and Jenny are either really fat, or pregnant!  Just kidding!  They are due in the middle of October.  We are watching Belle for signs of pregnancy. 
9/8/18
***We have confirmed that Anastasia is pregnant!  So, those of you already on her list, be looking for updates near the beginning of October!  We are watching Zephyr, Jennie and Belle to confirm their pregnancies.  It's still pretty early!
8/26/18
WAITING LIST ANNOUNCEMENT
********
Beginning at 10:00 am on Saturday, September 15, I will be taking reservations for kittens from late fall to early spring..
Please call only…. It was too chaotic for me to try to figure out who contacted me first when comparing emails, texts and calls, so I'm simplifying it this time by going to calls only. At that point, I will send you a short form that you can fill out and send back along with a $300 deposit to secure your place in line.
Looking forward to hearing from all you prospective kitten owners.
7/6/18
Calypso had 6 kittens on June 20.  All are boys and all but one has white feet.  There are 4 polys in the bunch.  Pictures are on Facebook and will  be on our website soon.
Gracie had 3 girls via C-section on June 25.  They all have some form of red on them. 
6/6/18
Thank you to everyone for their time and patience yesterday during the reservation process.  We had a lot of calls, especially in the first 5 minutes!  Most calls had to be returned.  We will keep you updated on pregnancies and births as we know more information.
There are still some openings for reservations for the following queens:  Anastasia, Belle, Jenny and Zephyr.  Calypso, Gracie and Mango are full unless we find out that we have extra kittens after they're born!
6/5/18
Today is the day!  It's reservation day starting promptly at 9:00 a.m.  We will let you know the end results later today or tomorrow!  Please leave a message and Tom will return calls in the order in which they are recorded.  Please be patient, we also have 5 guys here sawing through walls, installing a new A/C, so it's kind of crazy around here today!
5/28/18
Reservations for our planned litters will be opening up on Tuesday, June 5 at 9:00 a.m.   
Mango-summer litter
Zephyr-fall litter
Anastasia,  Belle and Jenny-late fall litters
***For those already on Gracie's and Calypso's list, they are both pregnant.  Calypso is due June 24 and Gracie is due June 29.  Their waiting lists are full.
5/14/18
Belle is having her kittens right now.  I don't know  how many we will be blessed by yet!
4/29/18
Jenny had her first litter on Wednesday and gave us a little surprise!  She has 5 kittens and while 4 are brown classics, one is a blue!  Genetics can be so fun!
4/15/18
Zephyr had her babies.  She has a small, but beautiful litter of 3.  
4/13/18
We have no kittens available at this point.  Please check back near the end of May when we will have updated or opened our fall/winter waiting lists.  Thank you.
//4/2/18
Molly is reserved for Wes and Stormy.
3/27/18
Gracie's male has been spoken for, but we still have room for either Calypso or Jenny's upcoming litter.  Anastasia's Molly is also available.  
3/25/18
I have gone through my waiting lists and have a few spots open.
1.  I have a spot available for a female from Jenny's upcoming litter.
2.  One of Gracie's males is available.
3.  There is room for one more person on Calypso's upcoming litter for either a female or male.
3/23/18
Calypso's last kitten, Willow,  went home today. 
We have 1 female brown mackerel girl unexpectedly available.  She is in Anastasia's litter.  
2/28/18
All waiting lists are full for upcoming 

SPRING  

litters with the exception of one female spot with our largest queen, Jenny.  The waiting list for upcoming 

FALL 

litters will be open around 

June 1st

.   Please keep checking our website for updates on pictures and happenings.  Thank you!
2/26/18
Gracie had her 4 kittens by C-section on the 22nd.  They are fat and happy!
2/15/18
Anastasia had 5 kittens on Valentine's Day!  They are all dark and beautiful.  
Belle and Zephyr's waiting list is full.