Jackie Rose, from Juniper and Marshall is taking the show circuit by storm.  She is now a Champion, working towards Grand Champion.
Jellybean has sure changed in 8 months!  From a tiny black boy to a majestic black smoke!

Jack from Cappuccino and Marshall is just stunning.  He also is patient, allowing his 3 girls to dress him up in doll clothes!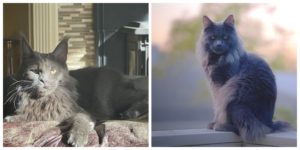 Hagrid (formerly  Goliath from Zephyr) is getting close and cozy with his big "brother" a Great Dane puppy!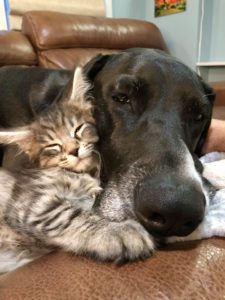 Brody (Calypso's) is looking good at 9 months of age and over 13 lbs!  Rosanna says he is Trouble Jr.  and into everything, playing with water, curious, but loving.  Just like his mommy, the original Trouble!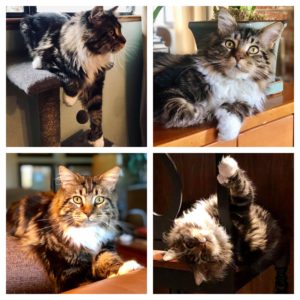 Here's Willie (Gracie's)  at 6 or 7 months old.  He's got such beautiful color!  Thanks Bev for the photos! 7/1/18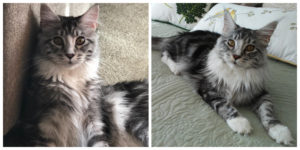 Taffie (Tinsel from Zephyr) is growing up to be a regal queen and Janet just loves her.  Gotta love that muzzle! 7/1/18

Giovanni (Ziggy from  Calypso) looks like a big boy at 5 months.  He is striking!  Tricia will be bringing him home a new littler sister, Flower (Belle) in a little over a week.  7/1/18

Marley (Gracie's) is 8 months old and looks great.  He had a rough start with a virus, but Cindy doctored him like a pro and that is all behind him now!  He has beautiful coloring. 6/6/18
Mufasa (Maggie's) is now over a year old and lives in Washington with Ashley.  Looks like he takes good care of his tail! 6/6/18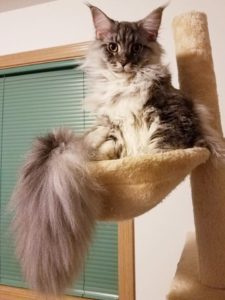 Kenzie (Zephyr's ) at a year old lives with Charlee and Larry in Coarsegold, CA.  That mane is impressive! 6/6/18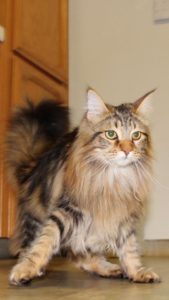 This is Otis (Zephyr's).  It is amazing to see the changes from baby kitten to 5 month old!  He is already 8 lbs and Ramona says he is a great cat.  He loves all other animals, children and car rides!

Rudy (red from Zephyr) and Dexter ( silver from Gracie) are half brothers who live in harmony most of the time with Gail.  They are very loved!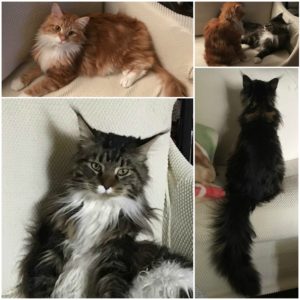 Willie–Gracie and Marshall's 5 month old boy.  He loves his cat tree and keeps his family on their toes.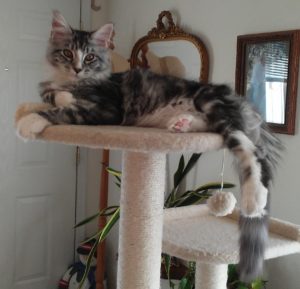 Kenzie–Larry and Charlee's big 7 month old girl from Zephyr and Marshall.