Misty and Remington have a beautiful litter of 4 kittens, born on April 12, 2023.  There are 3 girls and 1 boy.  Most look like they will be black smoke, but possibly one is black. All are reserved for people currently on our waiting lists.
6 weeks
Evelyn is very playful and sweet! She loves neck rubs!  She is reserved for Leigh.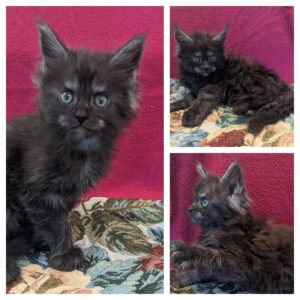 Godiva is a stunning playful girl who will call Orick her home with Truxton in the near future.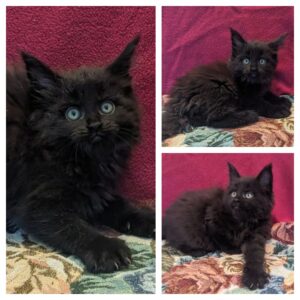 Pearl is a very active, funny girl who will be playing at Kim's house in Gustine soon.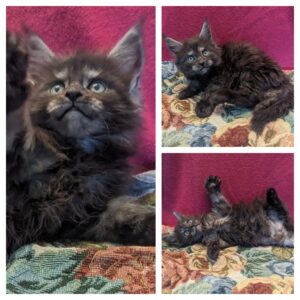 Sherman is a very sweet and loving boy who will be heading across the river to Auburn with Thomas when he turns 8 weeks old.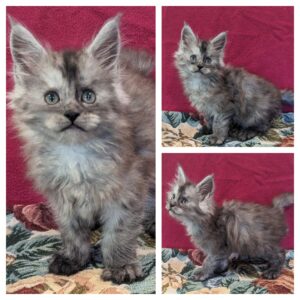 4 weeks
Evelyn is the darker black smoke of Misty's 2 smoke girls.  She is playful and is the first to start eating canned food!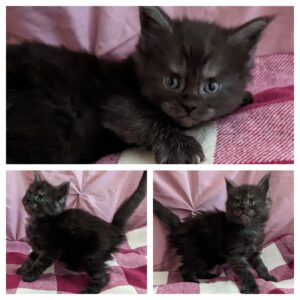 Godiva is a gorgeous shiny black girl who has super soft fur.  She is reserved for Truxton.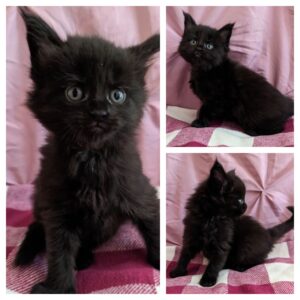 Pearl is the lighter colored of the two black smoke girls and is a fun loving, chirpy girl.  She is reserved for Kim B.

Sherman is an amazing smoke boy who is outgoing and chirps.  He is reserved for Thomas M.

1 week old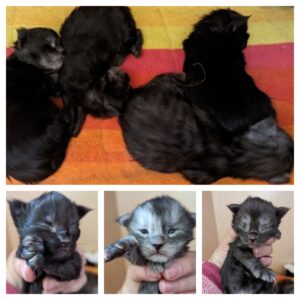 The parents:  Misty and Remington