Juniper and Remington
Juniper and Remington have had their kittens on October 15.  They have 2 silvers and 1  brown.  Both parents are very large cats.   All kittens are reserved for people on our waiting list.  
6 weeks
Glory is a beautiful silver girl with lovely, long hair.   She is reserved for Aya.

Spangle is a very large silver classic.  He is very communicative.   He is reserved for Andrea.

Truffle is a very dark brown girl.  She also has very thick hair.  She is reserved for our dear friends Patty and John and will become a breeder for their cattery in Oregon.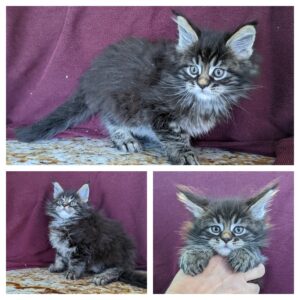 The Parents:  Juniper and Remington