Available adults and older kittens
Available adults
Very rarely, we have adults or older kittens to rehome.  We are very careful to get all of our cats and kittens the perfect homes, so if you are interested in any of these cats, please give us a call and we can see if you'd be a good fit for them.
Lucy is looking for a new home.  She is a very friendly girl and would do best with another pet or children in the home.  She likes to have an active home.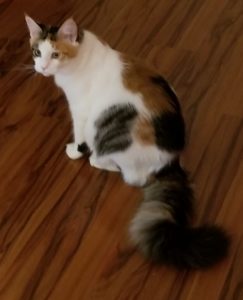 Chamomile is a little over 1 year old and has been spayed due to hormonal imbalances during her first pregnancy.  She is a very loving, gentle cat and would do well in any home.